The Kroger Co. : How Bernard Kroger Turned $372 Grocery Store To Over $70 Billion Revenue Generating Company
… Now runs more than 2,500 food stores, becoming one of America's Largest Businesses
The Kroger Co. was founded by Bernard H. Kroger in 1883. A merchant son, Kroger left school at 13 to work when his father lost the family's dry goods store. At 16, he sold coffee and tea door-to-door, and managed a grocery store in Cincinnati at 20. And with his life savings of $372, he began the Great Western Tea Company at 24 in 1883.
From four stores in 1885, 17 in 1893, and 40 stores and a factory in 1902, Kroger's exceptional business skill had put the business on the path of success. The company was incorporated and its name changed to The Kroger Grocery and Baking Company in 1902.
Kroger's business principle, which in no small measure contributed to his business early success, and guided it through the decades to the top of its industry, is: "Be particular. Never sell anything you would not want yourself." With this mindset, Kroger went on to bring about remarkable innovations in the industry.
The Kroger Grocery and Baking Company was the first to bake its own bread for its stores, and also the first to include meat department with the purchase of Nagel Meat Market and Packing House.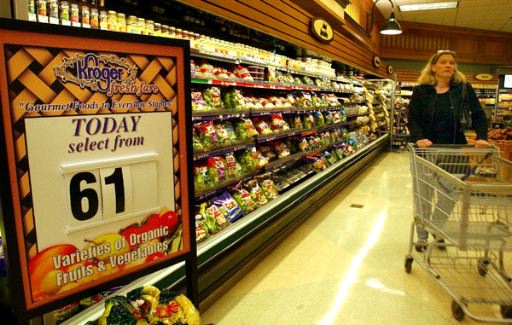 Kroger sought to offer its customers quality products at the lowest price possible. One way to achieve this was to manufacture its own products and selling them at low prices. From his mother's homemade sauerkraut and pickles, which he sold more to his German customers, to his own French brand of coffee, Kroger continued to develop new products over the decades, including peanut butter, ice cream,, and soda pop. Today, its food processing factories have produced thousands of products, which account for 26% of its total revenue.
By buying over smaller and financially strapped companies, Kroger had acquired more than five thousand stores in areas close to his company's established regions in the late 1920s. And in 1928, a year before the stock market crash, Kroger sold his shares in the company for over $28 million.
With William Albers taking over from Kroger as president, the company continued to seek ways to help its customers get quality products in addition to helping them save money by offering its own-made products at low price. It became the first grocery retailer in the U.S. to routinely test the foods, and the quality of the products it sold in the 1930s. The company sent its buyers to produce farms to inspect the crops used in making the foods sold in its stores, and so ensure their quality. This effort endeared the company to the public and quenches the frequent complaints that chain stores sold poor quality foods.
In 1946, under the control of Joseph Hall, the company changed its name from The Kroger Grocery and Baking Company to The Kroger Co. This was to reflect the new period of growth the company was going into.
The company initiated a consumer research program that allowed it to gauge consumers' interests and dislikes. Shoppers left their "votes" at the cash register, which enabled the company's management to take the right decisions on products to stock and the methods of selling them. The company expanded to other states, including Texas, Minnesota, and California, with sales reaching $1 billion in 1952.
Believing that a huge business potential exists in having a drugstore built next to a grocery store, Kroger began to expand into drugstore business in 1960. It bought Sav-on drugstore chain and made its owner, James Herring, the head of the drugstore division, and in 1963 the company's revenue topped $2 billion.
In the 1970s, the company's scientific method of researching its consumers was perfected – it became the first grocer to formalize consumer research. It was interviewing over a quarter-million shoppers each year to find out what they wanted in a supermarket, and from the information gathered, it was able to make strategic decisions that brought it huge benefits, such as the introduction of unpackaged produce and service specialty departments like delis.
The 1980s saw Kroger embarking on a number of acquisitions, including merging with Dillon Companies, Inc. in 1983, and began operating stores coast to coast. It also acquired the Kwik Shop convenience store chain in the same year.
However, in 1988, Kroger received several takeover bids, primarily from the Dart Group Corporation and Kohlberg Kravis Roberts, but it rejected them and instead restructured. The restructuring, which was financed by the company selling $333 million worth of unprofitable assets and by taking a loan of $3.6 billion, expanded its employees' ownership to more than 30 percent of the company's shares.
With the restructuring, Kroger's total debt climbed to $5.3 billion, and to tackle it, the company abstained from major acquisitions for several years, except its purchase of 29 Great Scott! Supermarkets in 1990.
Then in 1999, Kroger entered into the biggest merger in its history by merging with Fred Meyer, Inc. The merger brought Fred Meyer's 800 grocery stores located in 12 western states to Kroger, and enabled it to derive huge economies of scale in purchasing, manufacturing, information systems and logistics.
By 2001, Kroger's revenue climbed to $50 billion, and then $51.76 billion in 2002, with profit also reaching $1.2 billion in 2002 mainly due to the company's effective operating cost reduction drive. For instance, the company in late 2001 embarked on a restructuring that eliminated 1,500 jobs and the consolidation of its Nashville division into other divisional offices.
No doubt, Kroger has experienced monumental changes in its business over the several decades it has been in operation. Today, in response to customers' desires, needs, and convenience, its stores have grown larger to take more products and varieties, with a store's shelves now taking up to 50,000 products.
With its focus on cutting operational costs and offering its customers quality products at low price, Kroger has continued to be effectively competitive, and maintaining its leading position in the industry, ranking first or second in several of its markets.
Click here to read: The Keys And Strategies To Kroger Business Success
Recommended
Put your business on the path to success with a solid plan created with Business Plan Pro Software .
Experts in business and technology, as well as daily users rate this software higher and above others. Click here to see why.