google_ad_slot = "4047605677";
google_ad_width = 300;
google_ad_height = 250;



The Hildebrandt's Out Of Debt Success Story

If you are like some many people these days with lots of credit cards and other debts hanging on your neck, and you are wondering if you would ever get out of it, then this story of how a family was able to completely get out of their $106,000 credit card and personal debts will give you the encouragement and strategies to be free too from your debts.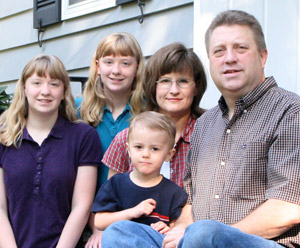 Five years ago, the Hildebrandt who lived in New Richmond, Wis., realized their debts had climbed to the level they could not pay anymore. They owed $89,000 to various credit card companies, and another $17,000 to a family member. As much as they tried keeping up with their repayment, their creditors – the credit card companies – made things even more difficult for them.
With the credit card companies increasing their interest rates, which shot up the minimum monthly repayment the family was required to pay, it became almost impossible that the Hildebrandt were ever going to be able to offset their debts.
Russell, the husband, was a chemist who worked with an environmental testing laboratory, while Kandy, was a house wife. It was therefore obvious that the family's resources could not meet up with the debt repayment.
Many family friends advised they filed for bankruptcy, but the Hildebrandt were prepared and determined to do whatever it would take to pay off the debts, and not go for bankruptcy. They knew it would be very tough trying to pay off the debts, but they didn't want to take the seemingly easy route of bankruptcy either, which would spoil their credit rating.
Taking the first step
To begin their walk out of debt, Kandy visited FamilyMeans, a nonprofit organization that provides financial education and counseling services in Stillwater, Minn. where she got her family's finances reviewed and a five-year debt management plan developed for them.
Though the repayment plan looked very scary, the Hildebrandt were however ready to make the necessary sacrifices they needed to make if they were going to be debt free.
To save as much money as they could possibly save, the couple completely stopped buying things they could do without. They shifted to buying more basic foods and visited thrift stores often for their clothing purchases at cheaper prices. Even the usual exchange of gifts between the couple themselves, and members of their family at birthdays and Christmas was stopped.
In addition to the money they were saving from the cut backs on their expenses, it was still necessary for Russell to get a second job so they could meet up with the monthly payment of $2,000 to be disbursed to their creditors.
He got a night job cleaning a local grocery store. For several days in a week, he would head to his second job by midnight after coming back from his day job, having dinner, and taking a few hours of sleep. And after the night job closes at 4:30 in the morning, he would rush home to take another few hours of sleep before jetting out again for the day job.
With Russell's exhaustive jobs, and Kandy's making do with the scare resources at home to the best that she could, life was indeed very difficult for the Hilderbrandt, who used just one car for almost a year before Kandy's family gave them a used van.
However, instead of quitting the debt settlement plan, their minds were focused on been free from the debt, and they were determined to pay it off, and nothing was going to stop them even though it didn't appear they were making progress in the first two years though their credit card balances were reducing.
As the years rolled by, and as they remained committed in paying off their debt, their efforts started showing good result. Their credit cards balances were getting reduced and eventually getting totally paid off one after the other. As one card is paid off, the money that would have gone into making payment for it would be used for another in the following month.
In April this year, the Hildebrandt were only six months away from completely paying off their debt. And by using the tax credit for first-time home buyers, the Hildebrandt were able to pay off the remaining balances on their credit cards – six months ahead of time.
Now, the Hildebrandt are free from all the credit cards and personal debts they were in five years ago. The only debt they own now is the mortgage on their new home, which they loved and got in a good deal.
For their perseverance and determination in paying off their credit cards and personal debts of $106,000, and not going the seemingly easy way of declaring bankruptcy, the couple were recently named winners of the Professional Achievement and Counseling Excellence (PACE) 2009 Graduate Client of the Year Award.
This is a national award given by the National Foundation for Credit Counseling to people who resolutely commit to paying off their debts, changing their lifestyle and taking charge of their spending habit.
The hildebrandt's out of debt success story shows that if you are determined and focused at achieving any goal, you will certainly reach it, however tough and long it might be. Once you have made up your mind about where you want to get to, and you start working towards it, you will surely get there.
It also shows that you must be prepared to work hard to enjoy success – there is no easy road to success. They could easily have opted to filing bankruptcy, but apart from the fact that their credit rating would be soiled, they wouldn't have tasted the sweet victory over debt, and felt the joy of accomplishment.
Congratulations Mr. and Mrs. Hildebrandt.

Recommended Resource


Trusted, tested, and reputable debt negotiation, and settlement company that helps you get out of debt
– with huge savings.



Do you have a Personal or Business Debt of over $10,000 you want to be free from? If yes, don't think of filing for bankruptcy, get in touch with CuraDebt today, their highly experienced and friendly counselors are waiting to help you out as fast as possible – get a free consultation now!
Read my full review of CuraDebt, and see why I strongly recommend it for your unsecured Personal and Business Debt (of over $10,000) settlement:

My Honest Review Of CuraDebt Debt Settlement Service
 
google_ad_slot = "5524338878";
google_ad_width = 300;
google_ad_height = 250;