McKesson Corporation: From Small Shop Now World's Largest Wholesale Distributor Generating $106.6 Billion Annually
Although it began in a small shop in Manhattan in the nineteenth century, today, with strong focus, effective strategies, and consistency, McKesson Corporation has grown to become the fifteenth largest company in the world (according to Fortune Global 500).
The McKesson Corporation success story is no doubt an excellent example of the fact that by doing certain things right, there is no limit a business can grow to, even if it started very humbly.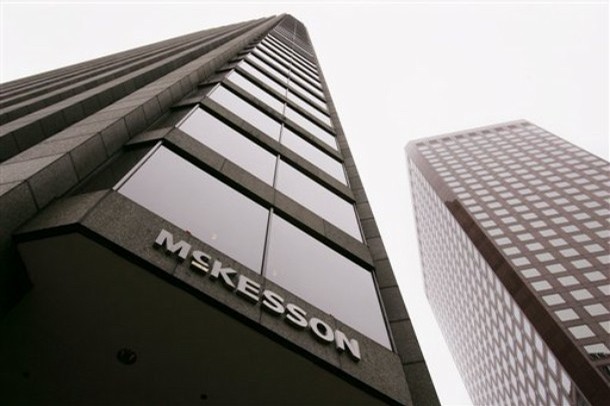 The history of McKesson began in 1833 when John McKesson and Charles Olcott founded the company in New York . The company was to do the business of importing and wholesale distribution of therapeutic drugs and chemicals, a business idea which the founders believed would be profitable.
This belief was based on the introduction of sailing ships at the time in the American economy, which made the transportation of goods from one continent to another a reality.
True to their belief, their business, which they started in a little shop, flourished quickly, as they provided American people drugs from Europe and medicinal herbs, roots and spices obtained from Shaker colonies in Pennsylvania .
As their business continued to boom, McKesson and Olcott, hired Daniel Robbins as assistant, but after a couple of years, due to his enormous contributions to the company, Daniel Robbins was made partner in the business.
By 1853, the company's pharmaceutical products were already reaching 17 states and territories, from Vermont to California . And in that year, after Olcott's death, the company was renamed McKesson & Robbins.
In the early 1990s, pursuing a strategic decision to lead the drug wholesale distribution industry, McKesson embarked on persuading several firmly rooted wholesaling firms to become its subsidiaries. The resultant effect was McKesson becoming a national drug wholesaling company, and the biggest distributor of pharmaceutical drug product in the U.S.
However, this development also saw McKesson & Robbins delving into distribution of other products outside health care.
In 1967, the company merged with Foremost Dairy of California after the latter's hostile takeover bid came through. This was a merger the management of McKesson & Robbins were not happy with, but could do nothing about.
The new company, a marriage between two unrelated businesses, known as Foremost-McKesson Inc. obviously lacked clear cut business strategy and direction, and this reflected in the falling income of the company.
To prevent imminent crash, in 1974 the company's Board forced Rudolph Drews, the then President of the company and the facilitator of the merger to resign for poor managerial performance, and his place taken over by William Morison who was all out to position the company in the way of profitability.
To give it direction, Morison restructured Foremost-McKesson into four operating divisions, namely: McKesson & Robbins Drug Company, Foremost Foods Company, McKesson Liquor Company and McKesson Chemical Company. This strategy worked excellently for the company, with all its operating units becoming leaders in their industries.
Before William Morison retired in 1978, Foremost-McKesson had become the biggest distributor of drugs, alcoholic beverages and chemicals; biggest supplier of whey by-products; biggest producer of processed water, biggest producer of fresh dairy products, and the leading multiregional distributor of hospital and laboratory supplies and equipment.
Morison's other goal was to reduce the size of the company and at the same time increase its profitability. To achieve this, he sold off 11 of its low profit-making subsidiaries and acquired C.F. Mueller Company and Gentry International, two major food processing companies in 1976.
The acquisition of C.F. Mueller Company, U.S. largest pasta marker, and Gentry International, a processor of onion and garlic, was to satisfy Morison's quest to redirect the company from the business of wholesale distribution of pharmaceutical products, beverages and liquor to the production of proprietary products.
With the retirement of Morison in 1978, Thomas P. Drohan assumed the position of President. Drohan's goal was to improve productivity and save money for the company. To achieve this, he updated the inventory and stock procedures, bringing in computers to order stock. This strategy slashed Foremost-McKesson's personnel costs by one third.
Drohan also established data processing procedures that transformed the role of the middleman – providing valuable information to both suppliers and customers, and establishing Foremost-McKesson as leader in wholesale practices.
In addition to data processing procedures, the company also made huge investment in warehouse automation. These investments led to the company's average profit growth climbing to 20% in the 1980s compared to only 2% before 1976.
With Neil Harlan becoming President of Foremost-McKesson in 1983, the company decided to divest from its non-health related business and focus more on its traditional business of wholesale distribution of healthcare products.
It sold off Foremost Dairies and all its food processing and homebuilding subsidiaries, McKesson Chemical, McKesson Wine & Spirits, Armor All Products, and C.F. Mueller. In fact, according to Harlan, his company didn't make a wise decision buying C.F. Mueller in 1976, because Foremost-McKesson didn't have any East-Coast presence in foods and little opportunities for combining sales forces, regional offices, or marketing efforts.
Guiding Harlan's managerial decision on this issue is his belief that "any company that doesn't stick to what it does best is inviting trouble"
With the divestment of Foremost, the company's name became McKesson Incorporation.
And to consolidate its healthcare wholesale distribution business' leadership position, McKesson acquired Automated Healthcare, and General Medical, the biggest distributor of medical-surgical suppliers. It also bought HBO & Company for $14 billion paid for in stock, and became the world's largest health care services company.
Today, with over 200,000 physicians, 26,000 retail pharmacies, 10,000 long-term care sites, 5,000 hospitals, 2,000 medical-surgical manufacturers, 750 homecare agencies, 600 health care payors, 450 pharmaceutical manufacturers as customers, McKesson is strongly focused to meeting the health care needs of its customers, and providing information technology solution to patients – no wonder it is the 15th largest company in the world (according to Fortunes 500), with yearly revenue of $106.6 billion.
Read McKesson Corporation's Business Strategies here.
Recommended
Put your business on the path to success with a solid plan created with Business Plan Pro Software .
Experts in business and technology, as well as daily users rate this software higher and above others. Click here to see why.