Ready, Fire, Aim: Zero To $100 Million In No Time Flat by Michael Masterson
Bringing his wealth of knowledge and experience in building dozens of multimillion dollar businesses, including one whose revenues exceeds $135 million and another still growing at $300 million, Michael Masterson provides an invaluable guide to business owners on starting and growing their businesses to multimillion dollar enterprise in his book, Ready, Fire, Aim: Zero To $100 Million In No Time Flat.
Reading Ready, Fire, Aim is a golden opportunity to get into the mind of a fabulously successful entrepreneur and discover the skill you need to create powerful marketing campaigns that ensure you gain sizeable market share and direct continuous flow of cash to your business. You will also find out how to create and implement innovative cost saving operational procedures that will enable you to save much more money and keep your profit high.
This is a great book for entrepreneurs and business owners. You will find it a very valuable guide.
Here is an excerpt from the book, enjoy it!
SPEED
Putting Ready, Fire, Aim Into Your Business
A Simple Formula For Second-Stage Growth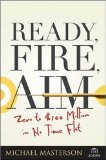 To change your company from a mom-and-pop, one-dimensional business into a product-producing machine, you will have to become good not just at innovation but also at speed. It probably took several years to produce and market your first product. To take your company to the next level, you will have to move faster – at least twice as fast as you are comfortable moving right now.
I am talking about increasing the velocity of innovation. This includes the time it takes to brainstorm, develop, test, and produce new products. In chapter 10, I talked about how you can get better at coming up with good ideas. But I also pointed out that if you don't execute good ideas quickly, they will degenerate over time.
Innovation matters. And so does speed. Combined, they give your business extraordinary growing power. Incorporate them into your company's culture, and you will have no problem breaking through the one-product, million-dollar barrier.
Let's put this in mathematical terms:
80% of G = IV2
Where G equals second-stage growth, I equals innovation and V equals velocity.
If you prefer verbal axioms, remember it this way:
The amount of growth a company can expect at the second stage of its development is directly related to its ability to generate and test new-product ideas quickly.
As your company's leader, you are responsible for its growth. Therefore, most of the time you spend during this stage of development should be given to generating and executing new-product ideas. You don't need to spend tons of time brainstorming.
If you run your creative sessions as suggested in Chapter 10, you will be able to come up with plenty of good new-product ideas by spending just a day or two every two or three months drumming them up. But you will need to spend a good deal of time pushing those new ideas along to fruition – conducting follow-up meetings, sending out follow-up memos, making phone calls, and reading reports.
There are, of course, plenty of other things you feel pressured to do during your typical workday, but you should do as few of them as you can. By now, you should have at least half a dozen people to whom you can delegate important responsibilities. Let them be in charge of operational tasks. Let them worry about customer service issues. Let them market your existing product(s). They should know how to handle all those things. If they don't, you have not been teaching them properly.
There is a time for everything, and now is the time to develop new products. Imagining and effecting improvements is now your most important role.
Three Things That You Should Feel Passionate About
To succeed as a product innovator, you should have or develop passionate feelings about three things.
First, you should love good ideas. And it shouldn't matter a whit to you whether the idea is yours or someone else's. If it sounds like it can effect a big change, love it.
Second, you should hate sluggishness. When working with new ideas, you should feel anxious about time passing. The moment a new idea surfaces, you should have a strong impulse to begin working on it right away. You should feel anxious if weeks go by and you hear nothing about it. You should get angry when you discover that someone has been letting it sit.
Third, you should enjoy the process. Taking a new idea from concept to execution is often a long and laborious procedure. If you find it tedious, you may pull away from the action and leave too much to chance. Allow your executives to do most of the work, but identify key decisions that you can participate in making. Set deadlines for making those decisions and keep them.
Teach your key people that when ideas are left in limbo, details are forgotten. Obstacles arise. Enthusiasm wanes. And, finally, the idea is forgotten or – worse – executed so weakly that it fails. The space of time that stands between the conception of an idea and its execution is filled with the potential for failure.
"Money Loves Speed"
Joe Vitale, author of Buying Trances: A New Psychology of Sales and Marketing, is a big proponent of speed.
At an EarlytoRise.com seminar, he told an amusing story that illustrated a principle he espouses: Money loves speed. To boost traffic to a new website, Vitale came up with the whacky idea of selling Elvis Mermaid Dolls on eBay. What was an Elvis Mermaid Doll? He wasn't quite sure. But he knew that every month, millions of people go online and do a search for the word "Elvis." What would happen if they saw something that said Elvis Mermaid Doll? How would they react?
It felt like a very good idea – maybe even a tipping-point idea – so Joe didn't waste any time. Within 24 hours, he had created an image of an Elvis mermaid (by using Photoshop) and posted it on his website.
Within seconds, he said, he had hundreds of people visiting his site. "If I had stopped to think about this for very long," he admitted, "I probably would have realized that there were problems with using Elvis's name. There are legal issues involved in using any celebrity name for commercial purposes. If I had the habit of moving slowly and carefully, I'm sure I would have found them out. But, luckily for me, I moved quickly. I didn't fool around with anything. I just moved. The idea turned out to be a huge traffic builder for me."
When it comes to implementing new product and marketing ideas, Vitale told the seminar audience, "keep one thing in mind: Money loves speed."
That's the right instinct for a business builder: to implement good ideas as fast as possible.
Faster Testing Means More Products, Which Means More Profits
At a business retreat that I recently attended, the CEO of a publishing company explained how her newsletter division led her company's growth over the past five years.
"Historically, we've been very good at recognizing good ideas," she said. "Because we have a license to emulate successful publications of a sister company in the United States, coming up with breakthrough ideas has never been a big problem. The process, in fact, is pretty easy: See what's hot there, adapt it to local conditions, and test it. More often than not, if it works in the States, it works here.
"So we have that advantage in terms of innovation," she continued. "But for many years, our growth was hampered because of how long it took us to get new products going. Even with the advantage that our idea-borrowing program gave us, it took us, on average, over two years to test and launch a new product.
"We were hamstrung by all the regular things," she explained, "a limited budget, a limited staff, and lots of accounting and legal regulations. But after so many years of putting up with how long it took , we came up with a new idea."
Her idea was very simple:
"If we could decrease by half the time it took us to bring a new product to market, we could double the number of new products we could test. Doubling the new products didn't guarantee a doubling of sales or profits, but – based on our track record of successful efforts – it seemed like a very good move."
When she introduced the policy, a few people quit because they didn't want to do the extra work. "But almost everybody else was excited by the challenge," she said. "And it turned out that once we got the system figured out, we were able to have more fun producing more products in less time."
Borrowing from something she had seen another division in the company do, she replaced the old, laborious, two-year launching program with a new, streamlined approach that takes only a year from start to finish.
When her team gets an idea for a newsletter, they create a short business plan that requires them to answer some very basic questions – such as how the publication is unique, how it fits into the existing product line, and to whom it will be marketed.
"This doesn't tell us if the new product will succeed," she said, "but it does indicate if we've made any major errors in thinking, such as planning a product for which there isn't a sufficiently large market or projecting sales without a realistic marketing plan based on past performance – selling similar products to the same market."
Next, they create a rough sketch of what the newsletter will do, how it will look, who will write it, and so forth, and they write ha short sales piece for it, based on that rough sketch.
Then they hire the person who will write the newsletter and give him a three-month contract to produce prototype issues. At the same time, they get a good copywriter to produce a relatively short (four-to eight-page) sales letter announcing and selling the new product. They run this ad on their website, offering 100 readers the chance to get the newsletter for free for 90 days in return for their willingness to provide feedback.
Several hundred people usually volunteer right away, she said. They select 100 of them and begin delivering the new product to those sample subscribers through the Internet (even if it is intended to be produced in print later on).
"During this time, we ask them a lot of questions about what they like and don't like about the newsletter," she told us. "And at the end of the 90-day trial period, we bring everybody together for a full-day focus group.
"By the end of the trial period, we end up with a much better and more focused product than we had at the beginning, because of all the specific feedback we get from our test group," she said. "And we also have better ideas about how to sell it."
When asked what she felt was the biggest obstacle she overcame in growing her division, she had an immediate answer: "It was the idea that going fast is risky," she said. "We have a reputation for liking exactness. So getting everybody used to moving so quickly was a big challenge."
But by cutting in half the time it took to test and launch new products, she was able to reduce costs (the average cost of testing decreased by approximately a hundred thousand dollars) and radically increase her division's sales. The result: in five years, sales went from $5million to $22million, while their profit margin actually increased.
How Testing Can Lead To Speed, Safety, And Profits
Not every business has the option of launching new products by testing them first with existing customers – but if you can do it, you should. It is fast, safe, and profitable. Here's why:
• Your existing customer base should always be your best market. If the new product launch doesn't sell quickly (for free) to those customers, it almost certainly won't work if you advertise it elsewhere.
• Because the new product is advertised as a test and given away for free, it doesn't have to be polished. That saves a lot of money.
• Test-launching the product this way gives you customer feedback before it is officially launched. All that feedback has got to improve the product.
• It gives the marketing team compelling personal testimonials about the value of the product – some of which might be expressed with dramatic stories that can be used in your advertising.
• And, finally, the announcement to your existing customers that a new product is being tested creates anticipation that can result in higher responsiveness when you market the product to them later on.
Recommended Resource
This is a great book by all standard, and I very much gladly recommend it to you if you desire to find out how to become super rich.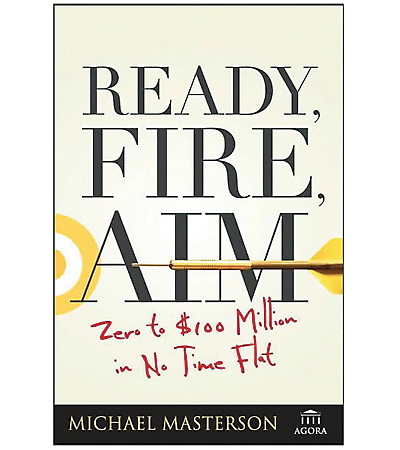 Get Your Copy of Ready, Fire, Aim Here