FedEx Corporation: The Creation of Overnight Air-express Industry
Federal Express Corporation, commonly called FedEx, was established in 1971 by 28-year old Frederick W. Smith, a Tennessee native and former Marine pilot. It was the realization of Smith's 1965 term paper, which he wrote as an undergraduate at Yale University.
He observed that if a company focuses on offering air freight, having its own planes, rather than using passenger planes, it would provide faster delivering of packages for people who need to move items speedily. Such company would have carved a profitable niche for itself in the courier delivery service industry.
He noted that such company will be able to service smaller cities faster, and that there was a good number of people and organizations who needed their packages delivered fast even if they were going to pay more, than using the then traditional means of sending their package through passenger plane.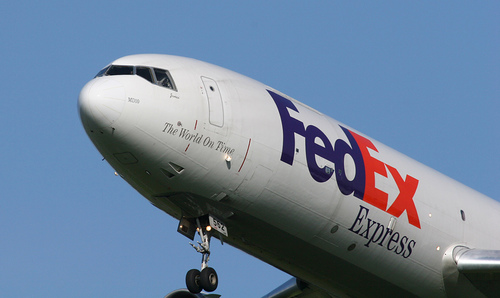 His operational strategies included having a fleet of private airplanes, and shipping all packages through a single hub. A company running aircrafts dedicated solely to airfreight would be removed from the schedules and shipping regulations usually associated with commercial-airlines. Also, moving all packages through a single hub enables the company to implement strict control and be able to move packages to their destinations overnight. The company will be able to deliver time-sensitive packages, such as electronics, medicines, and computer parts at record time.
With a fleet of 14 Dassault Falcon aircraft and 389 employees, FedEx began operation in 23 cities in 1973. The small-sized planes collected packages from airports every night and brought them to Memphis, FedEx headquarters, where they were quickly sorted, and then flown to the nearest airports to their destinations, from where they were delivered by FedEx trucks the following morning.
Although the company set out in high hopes, the beginning was however rough. In the first 26 months in business, it made a loss of $29 million, sparking off agitations from investors in 1975 to remove Smith from running the company. Smith's job was however spared by the support he got from company President, Arthur Bass, who felt he should be given some time.
By 1977 FedEx had 31,000 regular customers, which included such big corporations like IBM and the U.S. Air Force, which it serviced from 75 airports and 130 cities.
The company enjoyed little or no competition on routes between smaller cities because it owned its planes, which could reach smaller cities, while its competitors, such as Emery Air Freight rely on commercial airlines to ship its package. At the close of 1977, the company's sales was $110 million, and $8 million profit.
.
FedEx got a major breakthrough also in 1977 following the deregulation of the airline industry. This meant the company could now use larger planes like 727s, and DC-10s when it needed to ship large packages at once, instead of using several smaller planes to do it at higher cost. The company's planes could also fly anywhere and anytime in the United States.
Taking advantage of this development, FedEx acquired a fleet of used 727-1OOCs, and quickly expanded into small and medium-sized markets.
As the 1980s closes, FedEx had been firmly established with a growth rate of about 40 percent per annum. With 6,700 employees, 32 Falcons, fifteen 727s, and five 737s, it flew 65,000 packages a night to 89 cities across the U.S.
By 1981, FedEx was clearly the leader in the U.S. air freight business ahead of Emery, Airborne Freight, and Purolator Courier, which had been been in business about twenty years before it. FedEx was able to topple them because it was strongly focused on providing speedy delivery of packages, while its competitors weren't.
In 1983, FedEx attained one billion in annual revenues, thereby becoming the first company in the United States to reach such height within ten years of its start-up without mergers or acquisitions. And in 1984, it was prepared to replicate its success in the U.S. domestic market in the international arena, which was already dominated by DHL. To achieve this, FedEx started making a number of strategic acquisitions.
It acquired Gelco Express, which already was operating in 84 countries, in 1984, and also made more acquisitions in the United Arab Emirates, Britain, and the Netherlands. The following year, it opened a European hub at the Brussels airport as it attempted to expand its services across Europe. By the close of 1985 FedEx revenue had reached $2 billion.
Early 1989, in order to quickly develop a global delivery system, FedEx again bought Tiger International, Inc., for $883 and thereby possessed Tiger's heavy-cargo airline, Flying Tiger Line. The acquisition gave FedEx Tiger's delivery routes, which it had built for over 40 years in its history. These included landing rights in Frankfurt and Paris, three Japanese airports, and cities across South America and East Asia.
Also, the acquisition added Tiger's large fleet of long-range aircraft, which included twenty-two 747s, eleven 727s, and six DC-8s, to boost FedEx's fleet.
As a proof of the high quality service FedEx provided, the company became the first international cargo carrier to receive system-wide ISO 9001 certification. By the middle of the 1990s, it was operating in more than 200 countries and territories worldwide, with sales reaching $10.27 billion in 1996.
In January 1998, FedEx acquired Caliber System Inc, and the company became known as FedEx Corp. By absorbing Caliber System Inc.'s several businesses, and acquiring more companies in the years that followed, FedEx Corp. became a more diversified company that stretched into different, but related businesses.
The companies function under the motto: operate independently, compete collectively and manage collaboratively." This ensures that as the companies operate independently, they can focus squarely on giving their customers the best service possible. And as they compete collectively and manage collaboratively, they can maximally benefit from the strong FedEx brand name.
Today, FedEx Corp. is the world's premier shipping and information services provider.
Read FedEx Business Strategies here.
………………………………..
Recommended
Put your business on the path to success with a solid plan created with Business Plan Pro Software .

Experts in business and technology, as well as daily users rate this software higher and above others. Click here to see why.