Business Success Story: How ConocoPhillips Became A Global Business
Here is another business success story to inspire, motivate, and guide you to building your business to success. Learn from ConocoPhillips's huge experience of building a small business into a global company – its challenges and strategies for success.
The history of ConocoPhillips is primarily the combined histories of two highly successful companies, Conoco Inc and Phillips Petroleum Company, which individually began as start up businesses and grew into giant corporations that extended into many countries of the world before their merger in 2002.
Combining their strengths to form what is today the fourth largest petroleum refiner in the world, and the third most integrated energy company in the US, Conoco and Philips' success stories are not only captivating, they are also a light to any discerning entrepreneur to find their way to profound business success.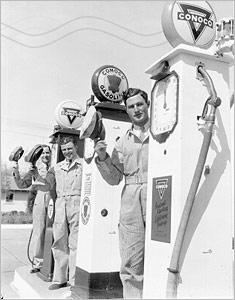 Conoco was founded in 1875 by Isaac Elder Blake after he noticed that townspeople in Ogden, Utah were still using candles and whale oil to light their homes instead of kerosene lamp. Kerosene was available, but it was too expensive for the people to buy due to the cost of transporting it from a refinery in Colorado.
This situation provided Blake a business idea. If he could import kerosene from eastern refineries using railroad tank cars as means of transportation and sell in bulk, the price would be lowered and lots of people would be able to easily afford it, he reasoned. Following this idea, Blake floated his business, which he called Continental Oil and Transportation Co. (CO&T) on November 25, 1875.
The business was an immediate success as it provided people in Utah, Idaho, Montana, and Nevada with affordable kerosene. Not long after, the company's operation was extended to Denver and San Francisco with the construction of the first pipeline in California, from a railroad station in Pico to Ventura, where the oil was loaded onto steamers sailing to the Golden Gate.
And in addition to kerosene, the company included new products such as benzene to clean stoves, candles, hoof oil for horses, and ready-mixed paints.
In 1885, CO&T merged with Standard Oil's Rocky Mountain operations, with the company now reincorporated in Colorado as the Continental Oil Company. The new company consolidated both Continental and Standard Oil's operations in Colorado, New Mexico, Wyoming, Montana, and Utah.
And in 1888 Continental acquired minority interest in United Oil Company, which had production and refining interests in Colorado. This removed the need for transporting products from the East Coast.
In 1913 the U.S. Supreme Court ordered for the dissolution of the merger between Standard Oil and Continental Oil and Transportation Company on antitrust ground; however Continental had become the topmost marketer of petroleum products in the Rocky Mountain region.
With automobiles plying the roads in greater number, Continental built the first filling station in the West in 1909, and made huge investment in fleet of delivery trucks, each with three tanks to deliver different types of fuel.
In the twenty years that followed, the company built over one thousand service stations in fifteen states. It moved into the production and refining of crude oil, merging with other producers, but always retaining the name Continental Oil.
One of such mergers which took Continental to another level in business was with Marland Oil Co. in 1929. Marland was a fast growing petroleum refiner which had built hundreds of service stations, and owned several oil wells. It was also the first in the industry to develop seismography techniques and new drilling methods to discover more oil.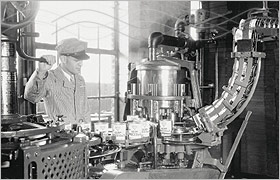 Continental Oil Company, Conoco, as the new company was named, owned close to three thousand wells and thousands of retail outlets in thirty states. And it became a leading force in the industry.
However, just one month after Conoco stock was first traded on the New York Stock Exchange, the stock market crashed, necessitating the company's management to take certain tough measures to save it. These included cutting salaries, selling marginal oil producing properties and abandoning big exploration projects.
Money was saved from these measures, and was used to finance refinery expansion, build the Great Lake pipeline connecting Ponca City with Chicago, and to finance many new product developments, including the first lubricant to reduce engine friction – Conoco Germ-Processed Motor Oil, which was a huge success and found superior to other brands that came later.
Conoco also endeared itself to its target market using cleaver advertising tactics. Some of these were "Gentlemen Prefer Bronze," the advertisement for the newest gasoline brand, and the Conoco Travel Bureau, a publication that provided drivers free travel information, with the location of Conoco service stations included in it.
And as a way to show its appreciation to its workers for their contribution to its success, Conoco gave out 5,000 bonus checks in 1937. This was worth $770,000, and was the biggest any company would give that year.
The era between 1945 and 1972 saw Conoco expanding its refineries in Ponca City, Baltimore, Denver and Lake Charles, and establishing a new refinery in Billings, Mont.
It also expanded its operations in foreign lands. These included its discovery of oil at the Dahra field, Libya, and in Dubai where it found oil at two major offshore locations.
To take as much advantage of the retail potential of these discoveries, Conoco embarked on massive acquisition of relevant businesses across Europe, establishing a network of service stations in Luxembourg, Belgium, Australia, West Germany and the United Kingdom, with each marketing a different brand of Conoco gasoline.
The era also saw Conoco diversifying into minerals, coal, chemicals, fertilizers and plastics. It had become an integrated, worldwide business with assets valued over $2.3 billion.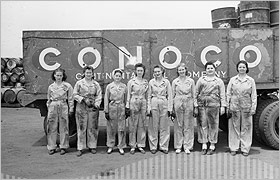 Conoco continued to invest heavily in oil exploration in Indonesia, the Gulf of Mexico and the North Sea through the decade, and also in developing new drilling technologies for greater production.
On September 30, 1981, after both Conoco and DuPoint Boards have agreed, Dupoint acquired Conoco for $7.4 billion, with Conoco retaining its existence as a Dupoint subsidiary.
However, seventeen years later, Dupoint wanted to refocus its business in the field of biotechnology rather than continuing in the energy sector, while Conoco wanted to focus more on the upstream sector of the petroleum industry rather than its downstream operations.
With this difference in focus, Dupoint agreed to sell off Conoco through Public Offer, which was effected in 1998 when Conoco stock started trading again on October 22, 1998.
Then in November 2001, Conoco and Phillips Petroleum agreed to merge, and this was completed in August 2002 with the formation of ConocoPhillips.
Phillips Petroleum, formed in 1917 by the Phillips brothers, Frank and L.E. Phillips, brought to the union nine decades of experience and innovations in petroleum exploration, production and marketing. The new company became the sixth-largest publicly traded oil company in the world and the third-largest in the United States.
With exploration activities in 29 countries, including the United States, Canada, Venezuela, the United Kingdom, Norway, Nigeria, Dubai, Russia, China, Indonesia, Vietnam, Australia, and East Timor, ConocoPhillips annual income reaches $105.1 billion (2003).
In 2006, ConocoPhillips' position as a leading natural gas producer and marketer was consolidated when it acquired Burlington Resources, a business with over 100 years experience in natural gas production and marketing.
With the fusion of three giant companies Conoco, Phillips Petroleum, and Burlington Resources, in one, pulling together a total of more than three hundred years of experience in the petroleum industry, it is no doubt that ConocoPhillips will continue to break new grounds and remain tops in the industry.
Read ConocoPhillips' Business Strategies
Recommended
Put your business on the path to success with a solid plan created with Business Plan Pro Software .
Experts in business and technology, as well as daily users rate this software higher and above others. Click here to see why.