Business Stripped Bare: Adventures of a Global Entrepreneur – Richard Branson

As a business owner, it is always a great privilege to learn from successful businessmen and women who have built mega businesses whenever the opportunity presents itself, especially through reading their books when they decide to publish one.
And one of such personalities whose books are usually packed with down-to-earth lessons for entrepreneurs to use in building their businesses is undoubtedly the Billionaire, Sir Richard Branson, founder of Virgin Group.
If you had read any of his previous books, including Losing My Virginity, you will not expect anything less in his latest, Business Stripped Bare: Adventures of a Global Entrepreneur. (You can get a collection of Richard Branson's books here: Richard Branson's Books).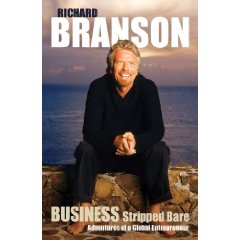 In Business Stripped Bare, Richard Branson exposes the inner workings of his mind for business owners to tap into, and reveals how he's able to build billion dollar businesses seamlessly – ranking as the only man in history so far to build seven billion dollar businesses from scratch.
Among other revelations, he explains how he built Virgin Mobile USA into the fastest growing company in history ahead of such companies like Microsoft, Google, and Amazon.
Again, this is a great book all business owners and aspiring entrepreneurs should read to avail themselves of valuable knowledge in business creation, development and building.
Here is an excerpt from the book:
Delivery
Special Delivery
Right now, I'm sitting in my daughter's home in London and the house has been busy all morning with visitors coming in to see me and talk about Virgin. I've already had several meetings with financiers, our bankers and a Swedish television crew making a programme about Britain.
I've also taken phone calls from many of our managing directors and business partners. I've asked Nicola, my personal assistant, and other Virgin Management Limited people to fire off a volley of emails. There's been a list of invitations approved for a media launch. And last night, after flying in from Necker Island, I had a late-night supper with the singer Christina Aguilera, who told me how baby Max is doing and her latest music plans.
I'm flying off to see the French president later this afternoon. Tomorrow we're heading to Mumbai to meet some Indian business figures from Tata, the industrial group, and then on to Japan where I'm speaking at an investment conference. We never sit around for long-unless we're on holiday. We thrive on ideas, but our day-to-day business is about delivery.
Good delivery depends upon many things. Two of the most important elements are good communication, and attention to detail. Neither of these essentials is difficult to understand or implement, so, naturally, they're often the first things we forget.
In the early days of Virgin Atlantic, I used to write regularly to all our people, telling them what was happening in the business. I'd jot down my thoughts in my notebook, make a few corrections, get someone to sort out my spelling mistakes and send it out to everyone.
I thought letter writing was an important way of communicating.
This wasn't so easy as we grew larger, and because of Virgin's success and my subsequent fame, anything I wrote inevitably hit the press as a news story. So it became difficult to pen the unrestrained letters of the early days. Nevertheless, it is important for people running companies to write a regular letter to keep their staff in touch.
And a personal letter sent to someone's home is, I think, still very much more appreciated than an email. Be brave: hand out your email address and your phone number. People aren't stupid, they know not to misuse it or badger you – and by doing so, you will be giving the people who work for you a massive psychological boost. In any event, regular communication by the leadership team is a must in any service business. So keep talking and keep explaining.
I now have a team of people who meet once a week to go through every Virgin company, looking at figures, projections and income. They have a list of priorities, and a list of new projects. They make sure that the Virgin Group is running efficiently. This frees me up to dive in and out when necessary. They know if there is something urgent, they can phone me and I can then focus on the things that really need my personal input.
Don't waste your precious time. Phone calls and emails can eat your day. Don't let them. No one will think less of you for getting to the point. Because there are so many calls to make every day, I generally keep them very brief. And a short note to somebody is often quicker than a phone call. As the business has got bigger and spread across the globe, a lot is dealt with by short notes.
However, I'm always willing to pick up the phone and talk directly to people if an issue needs resolving that way. There's a question that if you are trying to persuade someone to join you, invest with you, or make some changes, then it's important to speak to them directly and take the time so that they know what they must do. Face-to-face conversations are more efficient, and videoconferencing will always come a poor second to a shared pot of tea.
Recently I had lunch with Raymond Blanc. He's the owner and renowned chef of Le Manoir aux Quat'Saisons in Oxfordshire. The reason Le Manoir is so successful is that Raymond makes sure that every tiny bit of detail is carefully thought through. If you're running an airline, a restaurant or any other kind of company, it's the attention to detail that really defines great business delivery.
I'd advise every owner of a company to keep a notebook and jot down the things that need doing. If you're listening to staff or customers, then write down the main points. If you're visiting a factory or touring a new site or partying with your staff, use the notebook. When you're busy with a lot going on around you, if you don't write things down, I doubt you'll be able to remember one out of twenty items the next day.
Let me give you an example. The main reason why staff become frustrated is that the same problems and complaints keep cropping up and never seem to get properly sorted. On a recent Virgin Atlantic flight someone told me that the sugar had run out, not once, but on two or three occasions.
Why were we not stocking more sugar? And why were we overstocking vegetarian dishes, so that people who didn't want this had no other option? These weren't major problems, and they were easily fixed, but someone somewhere has to make the call, the very next day, to sort them out. Otherwise we become the no-sugar airline. The healthy-option airline. Worst of all, we're the not-really-listening airline. And there are enough of them out there already.
I carry a notebook everywhere I go. Every blue moon I wax philosophical. But most of my entries are like this one, and these are the sort of dull, dreary, absolutely essential entries that everyone should be capable of writing, but so few do: 'Dirty carpets. Fluff. Areas around bow dirty. Equipment: stainless steel, grotty. Choice of menu disappointing – back from Miami, prawns then lobster (as a main course) in Upper Class. Chicken curry very bland. Chicken should be cut in chunks. Rice pretty dry. No Stilton available on cheeseboard.'
I also noted that the duty-free trolley was going up and down the aisles without making any sales. I looked at the in-flight service report. Sure enough: no sales. Something had to be done either to encourage the passengers or to improve the sales opportunities (more likely, both), or get rid of the trolley altogether and save the weight.
But what's most revealing now – and most useful to you if you really are reading this for business lessons – is this note: 'Staff desperate for someone to listen.'
Under this I jotted down an idea: 'Make sure flight staff reports are auctioned IMMEDIATELY,' and I'm pleased to say that they now are, and onboard staff get the action and feedback they need.
When we launched our routes to Japan, I knew that we needed Virgin Atlantic to pay particular attention to cultural differences and to the Japanese sense of respect and formality, without spoiling our offering. It's a fine balancing act. On the inaugural flight I added some more thoughts: 'Need slippers in Upper Class, not socks. Need Japanese beers. Only one kind of newspaper from London: English. Need Japanese too. Japanese tea from London, not good. Japanese food from London. Tastes good but must be better presented. Looks like fish and chips. Saucers for Japanese teacups.'
I think company owners and chairmen should get out from behind their desks and go and sample their own products as often as possible. I do see many bosses doing their rounds speaking to staff, but they never write the details down. They will never, ever get anything sorted. And month by month, year by year, they will suffer the consequences. Imagine trying to do a good job in the teeth of official opposition.
Imagine being told constantly to cut corners. Imagine being rewarded for good delivery by having your business taken away from you and redistributed. Imagine winning market share and then being prevented from delivering more of your product.
In short, imagine the British government's railway regulatory system! Communication and attention to detail can make your business run more smoothly, but saying this doesn't nearly convey their importance. As I think you'll see from the following account, good communications and attention to detail were what enabled us to do business at all, in what has to be one of the toughest sectors we've ever entered.
In January 1997, when we took over the first of our two railway franchises, we made a public promise to usher in new trains and lead a 'red revolution' for the travelling public – on the busiest train lines in Europe. It was my personal commitment to deliver on this. It has taken some time. Eventually, we were voted the UK's best train company in January 2008 by the Institute of Customer Service.
This, in my opinion, was rather overdue, but gratefully received, nonetheless! Virgin Trains also topped the 'Passenger Focus' National Passenger Survey with a score of 86 per cent for customer satisfaction. And Travel Week, a trade magazine, declared Virgin Trains the best railway company, as voted for by the travel trade and travel agents.
This string of tributes is principally down to all the Virgin Trains people who work day in, day out, often in fairly arduous conditions. It's also a great accolade for Tony Collins, the CEO of Virgin Trains, who has been a champion for the customer and staff, but a pragmatist about how difficult it is to run a railway.
I'm the kind of person – as most people will know from my ballooning escapades – who is willing to stick my neck out and take risks. When we launched the West Coast Main Line franchise on 9 March 1997, we said we would replace the whole fleet, and improve services and connections.
We also promised new diesel Voyager trains on the CrossCountry networks which criss-crossed Britain. But it would take a number of years before we could deliver this. We had inherited the worst part of the system and to start with we had to make do with a lot of 40-year-old rolling stock and clapped-out engines inherited from British Rail. Some of the rolling stock was in a terrible state. My first action as proud owner of a new railway set was to sign a £10million cheque so that we could get some spare parts to run the trains.
We steam-cleaned them, painted them and tarted them up as best we could. More than that, we kept them running, while promising our passengers a better service in future. It took time and a lot of pain and disruption. And we got a great deal of abuse from people who still didn't like the idea of the railways being deregulated and privatized after half a century of nationalization.
Recommended Resource
This is a great book by all standard, and I very much gladly recommend it to you if you are an aspiring entrepreneur, entrepreneur, or business owner. It is an opportunity to pick the brains of a Super successful businessman.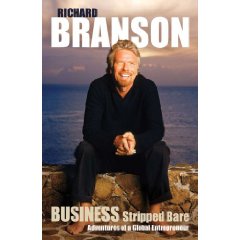 Get Your Copy of Business Stripped Bare: Adventures of a Global Entrepreneur Here
………………………..
Experts in business and technology, as well as daily users rate this software higher and above others. Click here to see why.