The Wal-Mart Way: The Inside Story Of The Success Of The World's Largest Company – Don Soderquist
A lot of books have been written about the success of Wal-Mart, but none will give as much insight as one coming from someone who was right in the heart of idea generation, decision making, and strategy implantation that brought about the monumental success of Wal-Mart.
No one will probably be able to tell us what exactly enabled Wal-Mart to go from $1.25billion in sales in 1979 to $44 billion in 1992, and to $256 billion in 2004, than Don Soderquist, former Vice Chairman and COO of Wal-Mart.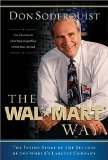 And in this book, The Wal-Mart Way: The Inside Story Of The Success Of The World's Largest Company, Don Soderquist unveils the actual principles and strategies that took Wal-Mart farther from being the largest retailer in the world to the world's largest company.
Don Soderquist shares the 12 reasons behind the success of Wal-Mart for entrepreneurs and business managers to copy for their business success.
Here is an excerpt of the book, which is a must read for business owners and managers, enjoy it:
A Passion For Excellence
Leadership is the art of accomplishing more than the science of management says is possible. – Former Secretary of State Colin Powell
I joined Wal-Mart Stores in April 1980. Our sales were strong going into the holidays that year, and we had a tremendous selling season between Thanksgiving and Christmas. When I came into the Friday morning meeting the week after Christmas and confirmed that sales had risen nearly 40 percent from the same period in the previous year, I was amazed and extremely excited. I had never seen such a large increase with an established company, especially during what was already the highest sales volume period of the year.
If this had happened anywhere else I had ever worked, it would have been cause for a major celebration. Little did I know that I was about to enter Sam's Wal-Mart Way classroom once again.

Excellence Means "Correction of Errors"
Sam began the meeting by thanking everyone for a great job. We discussed a few of the very positive things that we had done, but after only five minutes of modest self-congratulations, we began discussing what we could have done better.
We talked about everything we had "left on the table" – that's when you lose sales due to a lack of merchandise. Sam asked why we had run out of Christmas wrapping paper a week-and-a-half early in some stores. We also discussed overstocking – why we ended up with way too much merchandise in other categories.
We spent a full two hours talking about how we could improve our decision making and operations, and we began making specific and detailed plans for the next Christmas season right then. Leadership assigned people to specific tasks and asked them to report back on how they were going to solve some of these problems.
This was a profound learning experience for me and introduced me to Sam's simple concept of "correction of errors." This is how we approached every major merchandise season, every company initiative, every major event we were involved in: review everything while it is still fresh in your minds, discover errors, and don't make the same mistake twice. Sam rigorously applied this process to every part of the company and helped us to keep improving everything that we did.
Does this mean we didn't reward and celebrate success? Absolutely not. But Sam didn't see the value of sitting around and talking about how good we were, when there were things we could do better. This was one of my most important lessons on what passion for excellence really looked like.
Passion for Success Means High Expectations
By setting high expectations, we were always raising our performance standards to a new level. That's how we were able to keep improving our numbers from year to year. But the real focus was always on being the best we possibly could be; the numbers would take care of themselves.
One of the keys to setting your expectations high is a spirit of optimism. We had a very optimistic view of America's future, of the business environment, and of ourselves! We believed that there was always more potential than what we and others could see at the moment. That is why we addressed problems and challenges with poise and opportunism. Sam had a positive point of view. Sam was a living example to us of what we could accomplish if we set our minds to it.
Passion for Excellence Means Believing the Impossible Is Possible
High expectations are a powerful driving force, helping you become better than you already are. Sometimes you need to go one step further and step out on faith, even when you don't have history or research to predict success.
As the biblical writer said: "Now faith is being sure of what we hope for and certain of what we do not see" (Heb. 11:1). Yes, past performance is the greatest predictor of future performance – but if we lived by that credo alone, no one would do anything bold and new. Sometimes we need good, old-fashioned faith!
Wal-Mart grew 2,000 percent in the seventies and passed the $2billion mark in 1982. Many retail analysts predicted this as our peak – the more established stores would leave us behind. But that was really only the beginning of the coming Wal-Mart revolution. People continue to be amazed by what we have accomplished in Wal-Mart since that time. And honestly, sometimes in reflecting back on our next period of unbelievable growth, I shake my head and pinch myself to make sure I didn't dream it.
When I joined the company in the first quarter of 1980, Wal-Mart had just completed a year with sales of $1.25billion, Wal-Mart's first billion-dollar year.
When Sam passed away twelve short years later, in April 1992, our sales had reached $44 billion, making us the largest retailer in the world.
By the end of fiscal year 2004, sales topped $256 billion – an increase of $212billion over the past twelve years. We had become the largest company in the world. Truth is stranger than fiction, and what I just described to you is impossible. But we did it.
The concept of "impossible" can do funny things to our thinking. We really do limit in our minds what people working together can accomplish in organizations. The extraordinary, the "impossible" things that Wal-Mart accomplished were done by ordinary people. I don't believe that such results are limited to Wal-Mart.
I believe there are hundreds and thousands of stories just waiting to be written by organizations and companies who have leaders that inspire people to accomplish things that seem impossible. The only way that can happen, though, is if the leader believes it is possible – has even a mustard seed of faith – and can convince his people that the seemingly impossible is indeed possible.
Passion for Excellence Means Communicating, Communicating, Communicating…
Every year we had a different annual theme, which we introduced at the year-beginning meeting held in late January. But our theme didn't fade away when the banner came down; we repeated it over and over again throughout the year. These themes were more than neat little slogans – they were really a focus point to drive home an idea, a rallying point to engage everyone's thoughts.
It was an emotional appeal to help us realize we could achieve even higher goals than we had in the past. It was even a way to share our beliefs with everyone in the company – to communicate our culture – and bring everyone in alignment with a high goal. Several examples of the themes for past years are:
We've Only Just Begun!
You Can Do It!
Yes We Can!
Let's Make It Happen!
It's My Wal-Mart!
In 2001, our theme was "Imagine the Possible." Some of us were like little kids getting in trouble for having too-active imaginations. (Usually there was some mischief involved.) All of us have been told in one form or another to get our heads out of the clouds and our feet on the ground.
I think to succeed in business and life that there are times when we need do the exact opposite: get our heads back in the clouds and our feet off the ground. In other words, stretch your mind and just imagine, envision, dream of how much better you and your organization can be than you are right now.
When was the last time you sent your mind wandering beyond today to imagine a brighter tomorrow? Let your mind go, dream a little, and you might just discover that anything is possible.
Too many leaders are afraid of letting their minds wander too far; they put fences around their dreams. If you want to accomplish great things, you must dare to venture beyond today's realities.
The thinking behind "Imagine the Possible" was that we needed to push even further, beyond the self-imposed limits of our current thought processes and previous experiences.
My first thought was Imagine the possible by striving for the impossible, because that's what we had actually done in the past; why couldn't we do it in the future?
In preparation for my talk to all our store managers about the new theme, I looked the word impossible up in dictionary and found the following definition: "Felt to be incapable of being done, attained, or fulfilled."
The key phrase in this definition that jumped off the page to me was "felt to be." There have been many events in history that people perceived to be impossible but then accomplished. Consider:
The Pyramids of Egypt
We still don't know how they were built. How did they get those big rocks on the top levels? Modern engineers still marvel. This was an unbelievable accomplishment for the ancient Egyptian civilization.
Beethoven's Fifth
In 1804, Beethoven completed his Fifth Symphony in spite of the fact that he was completely deaf. He went on to write several other symphonies after losing his hearing. How is it possible to write music when you are deaf? You can't do that – wouldn't you have to know how it sounds? He accomplished what seemed to be impossible.
Breaking the Four-Minute Mile
Track athletes viewed running a mile in under four minutes as impossible. Some doctors believed that it was past the threshold of human potential and would lead to death.
Then one day, a young medical student, Roger Bannister of England, ran a mile in 3:59:4. In the next several years, runners achieved the four-minute mile over three hundred times. Once Bannister broke through the barrier, people believed it could be done – and did it.
The Heart Transplant
When I was growing up, it seemed like science fiction to think that you could take a heart out of one person and transplant it into the body of another. Then, Dr. Christian Barnard of South Africa did it. Today, organs are being transplanted hundreds and thousands of times a day all across the world.
Land a Man on the Moon
When I was a child, I read the popular comic strip Buck Rogers. Rogers wore a funny-looking outfit and traveled around in space in a shiny rocket. I liked reading Buck Rogers because it was like magic – the world of make-believe for young people. But later, the U.S. actually did it: we landed men on the moon and we got them back to Earth. In the 1950s two Harvard scientists conclusively proved that space travel was impossible (because of the weight of the fuel). Today we take space travel for granted.
These achievements were all perceived to be impossible, but they were accomplished. If these things were possible, what else is possible? Are there things in your organization that you or your people may think are impossible that in actuality could be done? No one believed that it was possible to build the largest corporation in the world in Bentonville, Arkansas, but we did it. If you can recognize that what others feel is impossible is actually possible, you can open up the boundaries of your mind. Who knows what you may be able to do?
A Passion for Excellence in Wabash, Indiana: A Snapshot
On Monday, October 25, 1999, a fire started in the furniture department on the lamp counter in our Wabash, Indiana, store. The store manager was alerted, and he attempted to extinguish the fire but was unsuccessful. He discovered later that lamp oil on the counter fueled the fire.
The fire department arrived and was able to put out the fire fairly quickly. Unfortunately, however, there was extensive smoke damage throughout the store. All of the merchandise had to be removed from the store and salvaged, all of the ceiling tile had to be replaced, and all of the store fixtures had to be cleaned off or repainted.
In essence, the entire store had to be cleared out and cleaned up before the new merchandise could be brought in and set in place. This was a major undertaking, almost like setting up a whole new store.
The store manager called the executive vice president of operations and said he would have to close the store for approximately twenty-one days. The executive vice president indicated that three weeks was too long for the store to be closed for our customers and challenged the district manager and store-planning vice president to do it in no more than seven days. The race was on.
Recommended Resource
This is a great book by all standard, and I very much gladly recommend it to you if you desire to find out how to become super rich.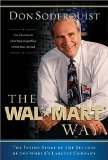 Get Your Copy of The Wal-Mart Way Here
………………………..
Experts in business and technology, as well as daily users rate this software higher and above others. Click here to see why.