L'Oréal: The Creation Of The World's Largest Manufacturer Of Cosmetics And Perfumes
The business success story of L'Oréal is another revelation of how possible it is to build multi billion dollar businesses from the ground-floor, with little or no money. A lot of aspiring entrepreneurs have not been able to start their businesses because they think they don't have the money or resources to begin. This belief is crushed as Eugène Schueller began L'Oréal from home, and grew it to the billion dollar enterprise that it is today.
This story is full with strategies, and business growth ideas that enabled L'Oréal to grow, expand consistently, and sustain its lead as the world's largest cosmetics and perfume company, and which you can also apply to your business.
Three years after graduating from Ecole Nationale Supérieure de Chimie de Paris, France's national chemical school as chemist, Eugène Schueller bagan to formulate synthetic hair dyes at night from his kitchen in 1907. He had observed that most women of his time loved to dye their hair. However, their choice of dye was limited to the fiery red and coal black color that were available then. Also, these dyes looked somehow artificial.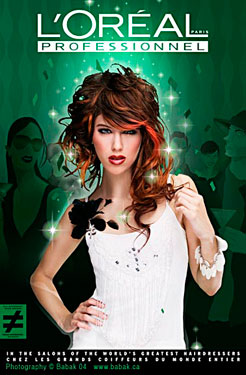 By improving on the existing hair dyes to meet women's needs and expectations, Schueller created hair dyes which not only provided a subtle range of colors, but also looked natural. Making his product in the night, and selling to hair saloons who accepted it in the morning, Schueller's business kicked off on a bright note. Within two years he found the Société Francaise des Teintures Inoffensives pour Cheveux, which later became L'Oréal.
Aware of the importance of marketing and promotion to business success, Schueller made use of the magazine, La Coiffure de Paris that was first published in October 1909. As part of the editorial team, and head of the science column, Schueller was able to promote his business with the articles he contributed to the magazine. His article on hair coloring, in which he was the first to recommend patch tests, established him as expert and brought him more sales. Seeing the power of the media in communicating with his target market, Schueller bought the magazine in 1912.
Quickly grasping that his success is closely linked to that of hair stylists, in 1910 Schueller began to forge a special bond with the profession, which grew stronger over time. Through his determination and ambition, he succeeded in convincing Paris hair stylists to use his dyes. He established a hair-coloring school on Rue du Louvre in Paris, which he personally oversaw, using a former hair stylist from the Russian Court to demonstrate his ideas. The school trained hair stylists, who, satisfied with his products recommended them to their clients. And with representatives selling his products throughout France, L'Oréal grew rapidly.
The 1920s brought in a new age. Women around the world were now working and earning money for themselves. They were also growing more concerned about their appearance, and looking for ways to prevent grey hairs from revealing their age. This development brought huge success to Oréal hair dyes – sales hit the roof as its products were sold massively outside of France, as far as Italy, Austria, Netherlands, and even the United States, Canada, and the UK and Brazil.
In the late 1920s, Schueller observed an evolving trend that could spin huge profit for his business if he took position early. He noticed that a lot of brunettes were longing to be blonde. To exploit the trend, L'Oréal launched the L'Oréal Blanc bleaching powder in 1929. And true to Eugène Schueller's prediction when he said, "This little bottle holds a huge industry! One day, millions of brunettes will want to be blonde," the product became a great success through the 1930s and 1940s as blonde hair became very popular.
Led by the highly creative founder and visionary, L'Oréal continued to innovate and find opportunities for its business from events in the society and economy. One of such events that brought L'Oréal huge profit was when the French Government introduced the first paid holidays for French workers in 1936.
Realizing there will soon be need for suntan lotions by holiday makers, L'Oréal created L'Oréal's Ambre Solaire, which immediately captured the new suntan lotion market. As the company was making giant strides in product creation, it was also expanding its sales network on both national and international level. The company began to sell its products through pharmacies and perfumers, just as new subsidiaries were opened in Italy, Belgium, and Denmark between 1936 and 1937.
L'Oréal's rise to the top and domination of the beauty and cosmetics industry was its huge investment in research and development, which enabled it to create market leading innovative products from time to time. By 1950 its research and development team included 100 chemists, which created top selling innovative products such as the first lightening tint, Imédia D, launched in 1951; and the first colouring shampoo, Colorelle, introduced in 1955.
As a result of the huge sales recorded by many of its products, which were equally market leaders across the world, L'Oréal was without doubt the highest earning company in France, with growth twice as fast as the cosmetics-industry average in the 1970s. With more money, the company increased its research and development staff from 500 in 1970 to 750 in 1974, then to 1000 by 1984.
Coming out from this huge investment in research and development were more highly successful products, such as Lancôme's Niosôme, one of the few anti-aging creams found to be effective by independent dermatologists, launched in 1986. From that success, L'Oréal translated the technology for creating Lancôme Niosôme into developing a mass market L'Oréal skin care line. The line, which was sold under the name Plentitude, was introduced in Europe and Austrialia in the late 1980s and in the US in 1989, capturing 10 percent share of the US market in only two years.
As L'Oréal entered the 1990s, it faced a tough competition from Proctor & Gamble and Unilever over worldwide domination of the mass market for cosmetics and fragrance. To fend off these rivals and maintain its global number one position, L'Oréal stepped up its research and development efforts, as well as its marketing drive.
It increased its advertising budget by up to 50 percent for some products, created new image for most of its colour cosmetics, repackaged its merchandise, and made display cases more accessible and user friendly. And by targeted acquisition policy, L'Oréal expanded and captured new markets and distribution channels.
Some of its popular acquisitions included Helena Rubinstein in 1989, American brand of skincare products that was already well positioned on the European , Japanese and South American markets; La Roche-Posay, also in 1989, a high-tech dermatological product recommended by dermatologists all over the world; Maybelline in 1996, the leader in mass-market make-up in the United States. This acquisition did not only make L'Oréal the clear leader in the United Sates, but the world number one in mass-market make up industry.
Others included SoftSheen, the leading brand of hair-relaxing range of products in the world in 1998; Matrix, leader in the US professional haircare products sector in 2000; Mininurse, a leading mass-market skincare product in China, in 2003; and Yue-Sai, another leading Chinese skincare and make-up brand in 2004.
SkinEthic, The Body Shop, and Sanoflore, the French pharmaceutical company and leading name in organic skincare that specialized in designing, manufacturing and marketing natural cosmetics produced by organic farming, were acquired in 2006, followed two years later with the acquisition of YSL Beauté (2008).
And as L'Oréal celebrated its 100 years in business in 2009, its position as the leader in the cosmetics industry the world over remain unshaken. Having reached this position through total commitment to research and development to create excellent and innovative beauty products that meet the needs of men and women around the globe, the company is poised to keep at it, and even step it higher in the years to come.
Read L'Oréal Business Strategies here.
………………………………..
Recommended
Put your business on the path to success with a solid plan created with Business Plan Pro Software .

Experts in business and technology, as well as daily users rate this software higher and above others. Click here to see why.